OUT OF STOCK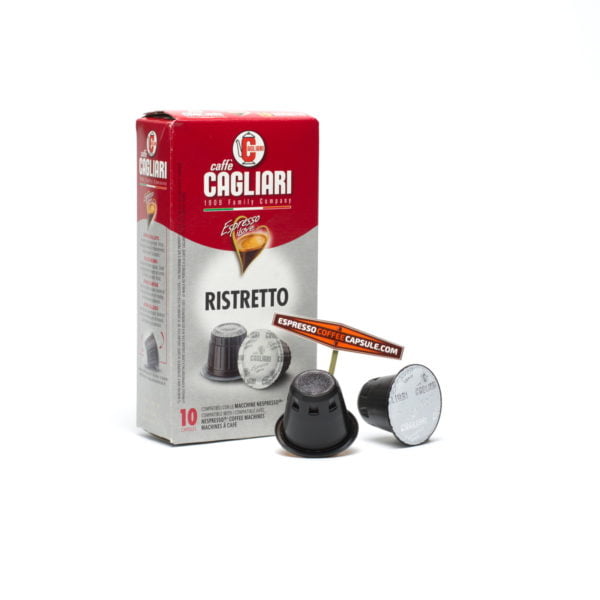 CAGLIARI Ristretto – Coffee pods for Nespresso® – Arabica, Robusta – Italy
$3.78$6.75/100g. incl.VAT, excl.Shipping
CAGLIARI Ristretto is a fine selection of Brazilian Arabica coffee and Robusta from South East Asia, definitely intense and exquisitely balanced between sweet and bitter. A full-bodied coffee with a round taste that exalts the harmonies of cocoa, almond and hazelnut on the palate.
Blend features:
Aluminium double-side protection nespresso* compatible capsule
Caffè Cagliari is one of the oldest Italian coffee producers
Intensity: 6 from 6
Composition: Arabica, Robusta
Origin: South East Asia
Package: 10 capsules in box
Net weight of capsule: 5.6 g 〜 oz 0.20
Compatibility: suitable for Nespresso® Original* machines for home.
Can be used at Home and Office
Made in Italy
Capsules in package


Out of stock
Description
For the finest taste of Coffee CAGLIARI Ristretto is recommended to use the best quality water.
Ingredients: roasted ground coffee, in capsules
Shelf life: 24 months
Storage: keep cool and dry.
Country of production: Made in Italy by CAFFE' CAGLIARI S.P.A.
Additional information
| | |
| --- | --- |
| Net weight | 0.056 kg |
| Weight | 0.1 kg |
| Coffee blend | Arabica and Robusta |
| Caffeine content | Caffeinated |
| Coffee system | Nespresso®* Original Line |
| Country of origin | Italy |
| Suitable for | Cappuccino, Espresso, Latte, Ristretto |